De mooiste vaarroutes door Amsterdam…
Mooie routes om te varen over de Amsterdamse grachten en de Amstel
Wij hebben vier prachtige vaarroutes door Amsterdam voor je uitgewerkt. Als je één van deze ingetekende routes op onze waterkaart volgt, weet je zeker dat je onderweg veel moois te zien krijgt en dat je je tijd op het water optimaal gebruikt. Onze eerste route gaat over de Amstel en de bekendste Amsterdamse grachten. Onze tweede route gaat over de Amstel en het oostelijk centrum (o.a. Artis en Nemo). De derde combineert Oud-Zuid met de Amstel en Oud-West, de mooiste route net buiten het echte centrum. En de vierde gaat helemaal niet de stad in, maar juist over de Amstel de stad uit.  Hieronder vind je voor elk van onze adviesroutes wat meer informatie..
Vaarroute 1: Amsterdamse grachten & Amstel
De Amstel met zijn Magere Brug: check! De Gouden Bocht van de Herengracht: check! De Westerkerk aan de Prinsengracht: check! De Jordaan: check! Het Rijksmuseum: check! Dat allemaal en nog veel meer hoogtepunten van Amsterdam in een schitterende vaartocht van circa 3 uur. 
Vaarroute 2: Oostelijk centrum & Amstel
Het centrum, maar dan nét even anders. Deze avontuurlijke tocht voert in 3 uur over de Amstel en langs bekende plekken als Artis, het Oosterdok met onder meer het Nemo, het Waterlooplein en de Stopera. En op de terugweg pak je ook de Heineken Experience en het Rijksmuseum nog even mee. 
Vaarroute 3: 'the Best of the Rest'
Dit is de mooiste route die je kunt varen als je net buiten het echte centrum van de stad wilt varen. Je vaart over een paar mooie grachten in Amsterdam Zuid, een stuk over de Amstel en de mooiste grachten van Oud-West. 
Vaarroute 4: de stad uit over de Amstel
Wil je juist de stad uit, even helemaal weg uit de drukte? Zak dan op je gemak een stuk zuidelijk de Amstel af. Dat is vooral een aanrader op hele warme dagen. Na de hoogbouw bij het Amstelstation wordt het lekker groen en begint de rust. Neem je zonnebril, een lekkere picknick en zwemspullen mee!  
Waar mag je wel en niet komen met je bootje?
Je mag met onze bootjes bijna overal in Amsterdam varen. Zo goed als alle Amsterdamse grachten zijn toegestaan en dat geldt ook voor de Amstel. Als je liever je eigen route vaart dan één van onze adviesroutes, dan is dat prima. Je dient daarbij alleen wel rekening te houden met de paar plekken in de stad waar onze boten vanwege de veiligheid niet mogen komen: het IJ en de rest van het havengebied, de Kostverlorenvaart ver in West en de Nieuwe Herengracht in Oost. Het is niet moeilijk om deze verboden vaarwegen te mijden. Ze staan heel duidelijk aangegeven op onze waterkaart. 
Wil je naar een specifieke plek en twijfel je of dat mag met een Boaty? Of wil je weten hoe lang je naar een bepaalde locatie onderweg bent met een Boaty? Neem dan voor advies s.v.p. even contact met ons op.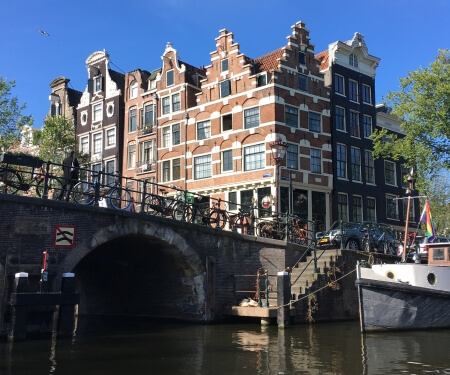 Waterkaart
Je hoeft van tevoren geen huiswerk te maken: zelf routes bedenken of eigen kaarten meenemen is niet nodig. Je krijgt van ons een grote waterkaart mee. Daarop staan onze drie adviesroutes, bezienswaardigheden onderweg en andere nuttige informatie duidelijk ingetekend.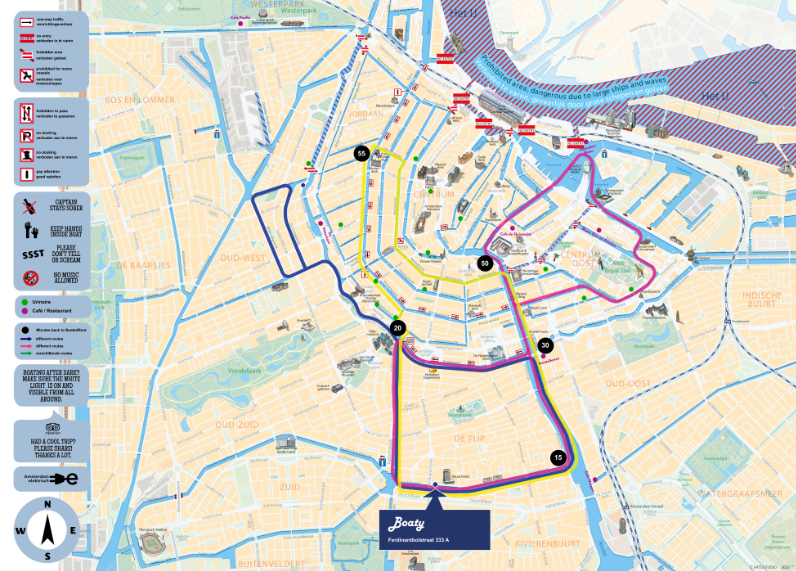 Persoonlijke uitleg
Bij het huren van een bootje krijg je van ons altijd een persoonlijke uitleg. We bespreken met je welke route je het liefst wilt varen en leggen die duidelijk aan je uit. Ook geven we daarbij tips voor onderweg: wat krijg je onderweg te zien, waar moet je op letten, waar kan het druk zijn en waar kun je even stoppen?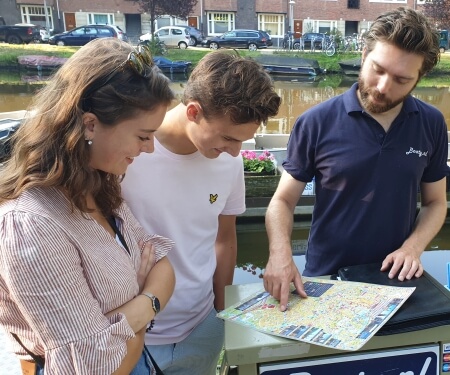 Drie of vier uur varen?
Je kunt bij ons een bootje huren voor een dagdeel van drie of vier uur. In drie uur kun je zeker een mooie route varen over de Amstel en enkele van de mooiste Amsterdamse grachten. In vier uur kun je nog net iets meer zien, of even pauzeren onderweg. Als je de hele stad wilt zien, kun je een bootje huren voor de hele dag.